[Featured image credit: Tropical Wallpaper – from Photowall]
If you've read our previous blog posts, you'll know that 2020 and 2021, in particular, have been big years for home redecorations and revamps – but now we're here to tell you that 2022 is going to be even bigger; we're expecting next year to be all about wallpaper and really adding a 'pop' to each room.
We know that for many, the thought of hanging wallpaper and giving your home a complete makeover can sometimes feel a little overwhelming, but we're here to help, and give you a look-in to the trends that we really expect to take over the next 12 months.
Wallpaper within panels
Feature walls that make a real statement are back! The penchant for panelling has made a steady comeback over the last 18 months, giving many living rooms a modern update. But we're expecting 2022 to take this trend further, opting for small segments of wallpaper within panelling painted in a complementary colour.
The wallpaper trend is all about expression, vibrancy, pattern and adding energy to the room, so now's the time to treat yourself to that wallpaper you've been eyeing up – because with this trend, you only need a few metres! This makes it cheaper for you, but still allows you to freshen up your living space and bring some exciting colours into play.
Tropical moods are here to stay
Palm leaves, foliage, banana trees, animals etc., have been increasing in popularity over the last 18 months, and it's here to stay for 2022. Creating a mural wall with wallpaper that boasts a tropical design is a great way to bring some fun and colour into your living spaces, without it feeling overwhelming or overbearing.
With shades of green, duck blue, yellow, and other natural tones remaining popular, tropical design enables free rein of the imagination, gets you into the exotic spirit and can easily transport you away to all the places that we've been missing over the last 18 months.
If you're feeling bold and brave, you can kick this trend up a notch and opt for wallpaper that includes birds or animals, for a truly encompassing exotic experience!
Vintage wallpaper is back
Charming vintage wallpapers that the Queen herself would approve of are back, and are a great way to both complement a period property or bring charm to a new-build home, with both bringing a sense of familiarity and comfort.
The vintage wallpapers that are making a true comeback are ones that embrace the old styles and design, but also add a modern twist. For example, instead of wallpaper that contains tiny and intricate designs that you have to squint at to really appreciate, 'modern' vintage wallpaper blows up an older-style design and allows you to really focus on the design without giving yourself a headache – a win, win!
You could even take it one step further back in time and embrace the chinoiserie design, which tends to date back to the 17th and 18th century by embracing walls with Japanese-style gardens and birds. This is a trend that also works well with the panelling that we mentioned at the start of this article, as it can give the room a display which looks like antique panel art.

Mid-century décor is all the rage
If you're not ready to go as far back as the vintage wallpapers we've just discussed, then you'll be pleased to know that retro wallpapers from the 80s, 70s and before are all the rage again! These bold and patterned designs can transport us back to our childhood homes (our maybe our grandparents' home, for the younger generation of homeowners!) and that also offers a real sense of comfort and familiarity, allowing you to feel right at home.
Whether you choose to go for a large-pattern wallpaper that takes you back to the 'disco diva' years of the 70s or the colourful, vibrant patterns from the post-war 1950s, it's safe to say that retro is definitely cool again!
The other advantage of this wallpaper trend is that, again, it tends to focus on a feature wall and not the whole room. By focusing on a mural wall, a retro wallpaper can really bring the room to life by being modern in colour but bold by nature.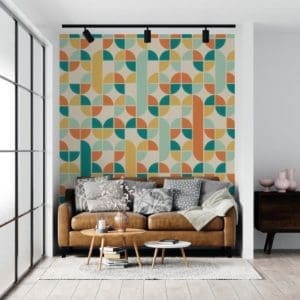 Photo credit: Happywall – Mid Century Modern Geometric wallpaper
Ultimately, wallpaper is back in a big way!
By choosing the right pattern for your style and existing furnishings, it's an easy way to completely overhaul a room and make it feel brand new, while also comfortable and familiar – a feeling we've all been craving during the turbulence of the last 18 months.
We know that there's a real knack to hanging wallpaper and getting it just right, and that's where we come in. Get in touch with our talented team, and get ready to wow with your new wallpapered features.