It's a pretty common dilemma; you've taken the plunge and decided to freshen up your décor, you make a start with the paint samples, and then you just can't seem to narrow it down to one colour. If this scenario sounds familiar, we're delighted to tell you that two-tone walls (also known as a dual-colour wall) are back, on-trend, and all the rage right now.
Besides giving your walls an Instagram-worthy paint effect, two-tone painted walls are the ideal solution for anyone looking to mix it up and create something truly beautiful. Whether you're torn between two shades, or you simply don't fancy painting in a whole block of colour, two-tone is the way to go. This simple but effective technique involves painting two different colours on a single wall, creating a striking contrast that can transform any room. In this article, we'll show you how to paint a feature wall with a two-tone colou scheme.
Keep it simple
The first step in creating a two-tone wall is to choose your colours. The key is to choose two colours that complement each other while still providing enough contrast to create visual interest. You can go with a light and dark variation of the same colour, such as a light and dark blue, or you can choose two contrasting colors like green and pink.
Ultimately, the number one rule when it comes to two-tone colour schemes is to keep it simple, and embrace the colour block. For example, if you choose to spruce up your halls, your best bet is to opt for the dado rail, wall below and even skirting boards all in the same colour – and particularly if you're using a bold or heavy colour. If you keep the darker or bolder colours on the bottom half of the wall, this should help to ground your new colour scheme.
Try it out on a tester board
Testers, testers, testers. If you're not entirely sure on the best colour scheme for your home, the best way to explore your options is by trying lots of different tester colours out on a board that you can hold against your walls, artwork and soft furnishing. This is the best way to make sure that your new colour scheme ties in with the rest of your home, before you call in the experts to make a start on painting the walls.
Combining two or even three colours on a wall is a really stylish, yet simple, way to completely overhaul your interior design – and the best way to embrace it is by combining light and dark tones.
One of the best effects of this painting trend can be achieved by dividing the walls into thirds, with the deepest shade being the colour that reaches down to the floor. As we've already mentioned, this helps to 'ground' the room – and if you use the lightest shade on the top of your walls and include the ceiling, you're likely to achieve a beautiful, seamless effect.
Create a border
If you want to crank it up a notch even further, you can use your third colour to paint a crisp line between your two tones, or you could use it to paint your window and door frames. Alternatively, you could use it for the skirting boards to create a frame and border effect – though if you decide to extend your darker, bolder colour to the floor, then this is a great way to elongate a wall.
If a border or frame effect isn't your vibe, then you could consider mixing the textures on your wall; for example, you could have a matte finish on the top half and a gloss or eggshell sheen on the bottom.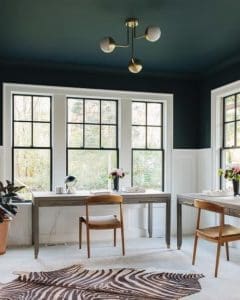 Make your walls look bigger
If you're tight on space, the two-tone effect can be great for creating the illusion of a bigger room! We've already mentioned that extending your colour to the skirting boards can make a wall seem taller, but it's also worth noting that if you paint the longest walls in the darker shade and the shorter walls in the lighter colour, it will really highlight the length of your room.
Generally speaking, it tends to be that darker, warmer shades are great for visually pulling a wall in towards you, while lighter, brighter, cooler shades tend to make the walls feel further away from you. And that's why this trend is so versatile – you can adapt it to fit your home and the style and shape of your rooms. If you paint two connecting walls in a darker colour and the other two in a lighter one, this can help a room that's not quite square, to feel more centred.
Stick to one statement per room
It's a bold trend, and one that makes a real statement – so you're generally better off sticking to one statement feature in each room you're redecorating. While they're eye-catching and have the potential to completely transform a living space, too many features in one room can quickly become overpowering and overwhelming!
A two-tone wall will work all the way round a room if one of the colours is bolder and the other is more pared back. And in the interest of keeping this trend simple, it's best not to even think about adding wallpaper into the mix.
No matter which approach you take, painting a two-tone wall is a simple and effective way to add visual interest to any room. Whether you choose to create a striking contrast with two contrasting colors or a more subtle effect with two variations of the same color, a dual-color wall is sure to make a statement in your home.
If this sounds like your kind of trend and you're ready to freshen up your home, don't hesitate to get in touch with one of our expert team members, and get your project started!